Sisu Mouth Guards zijn de beste bitjes op de markt en vind je natuurlijk bij Onlineskateshop!
Hier alle voordelen van de Sisu Mouth Guard/Gebitsbescherming/Bitjes.
WHEN STACKED NEXT TO ITS COMPETITORS, EVERY SISU® STANDS OUT IN FIVE KEY AREAS:
STRENGTH
Omdat Sisu revolutionair Diffusix technologu gebruikt maakt het een Sisu mouth guard acht keer zo slijtvast en 30 tot 50% sterker als traditionele mouthguards, gebits beschermers. Met deze kwaliteit ben je verzekerd van de hoogste bescherming voor het gebit en sta je sterker in je schoenen wetend dat er niks kan gebeuren.
Using revolutionary Diffusix™ technology, SISU mouthguards are 8 times tougher and 30-50% stronger than conventional mouthguards. You'll be able to start each game with confidence knowing that no matter how hard you hit, your SISU is there to protect you.
COMFORT
Een gebitsbeschermer wat niet lekker zit word bijna niet gedragen en ziet er vaak ook niet uit. Vergeleken met de meer traditionele grote en groffe bitjes is Sisu super dun! Met de 1.6mm dikke variant van balsporten en Roller Derby en de 2.4mm dikke variant voor vechtsporten is er geen dunnere op de markt. Omdat het bitje super dun is zit deze comfortabel en is het geschikt om mee te praten en te drinken.
A mouth guard shouldn't be something you dread having to wear because it's uncomfortable. In contrast to the large, clunky guards you've come to expect, every SISU is a super-slim 1.6-2.4 mm thin. They're so small that you'll honestly forget you're even wearing a mouthguard!
HYGIENE
Sisu is te vormen naar het gebit en zit hierdoor super comfortabel en kan het gedurend de wedstrijd ten alle tijden ingehouden worden, je hoeft het bitje niet uit te doen. Omdat het bitje dun is kan je er gemakkelijk mee praten, ademen en drinken. Om deze reden zullen er minder snel bactieren komen bij het bitje, gezien je minder met je zweethanden het bitje in en uit je mond haalt.
SISU provides a comfortable custom fit that allows you to keep your guard in your mouth the entire game or practice. You don't need to constantly remove your guard to talk, breathe or drink. This means that fewer germs will be transferred from your dirty, sweaty hands to your SISU Guard.
REMOLDABILITY
Sisu is volledig aan te passen naar het gebit en dit is ook meerdere malen mogelijk, zo creeërt Sisu de beste fit op de markt en zit het vergeleken met andere bitjes vele malen comfortabeler. Plaats het bitje in warm water, laat het zacht worden en vorm het naar het gebit.
SISU is the mouthguard that allows you to adjust over time, maintaining utmost comfort and protection. Beyond custom fitting, every SISU mouthguard can be remolded to ensure the best fit. Simply place your SISU Guard back in hot water, and it becomes soft and pliable, and ready to remold.
FREEDOM
Mouthguards shouldn't get in the way of your game, which is why every SISU is roughly half the thickness of conventional mouth guards. When you wear a SISU, talking, breathing, and drinking are largely unobstructed, allowing you to keep your focus where it matters: on the next big play.
Sisu is revolutionizing the mouthgyard industry by sonsistently leading in research and development, inventing new energy dissipating concepts, using superior materials and incorporating it all into elegant engineering.
In our labs, we have put each mouthguard through strenuous testing to see how it performs in relation to its competitors. What we've found is that, when compared to a conventional mouth guard with greater thickness, both the SISU Aero and SISU Max absorb significantly greater impact forces, better protecting your teeth from damage.
SUPERIOR PROTECTION
Less transfer of impact forces to teeth means better protection against dental injury.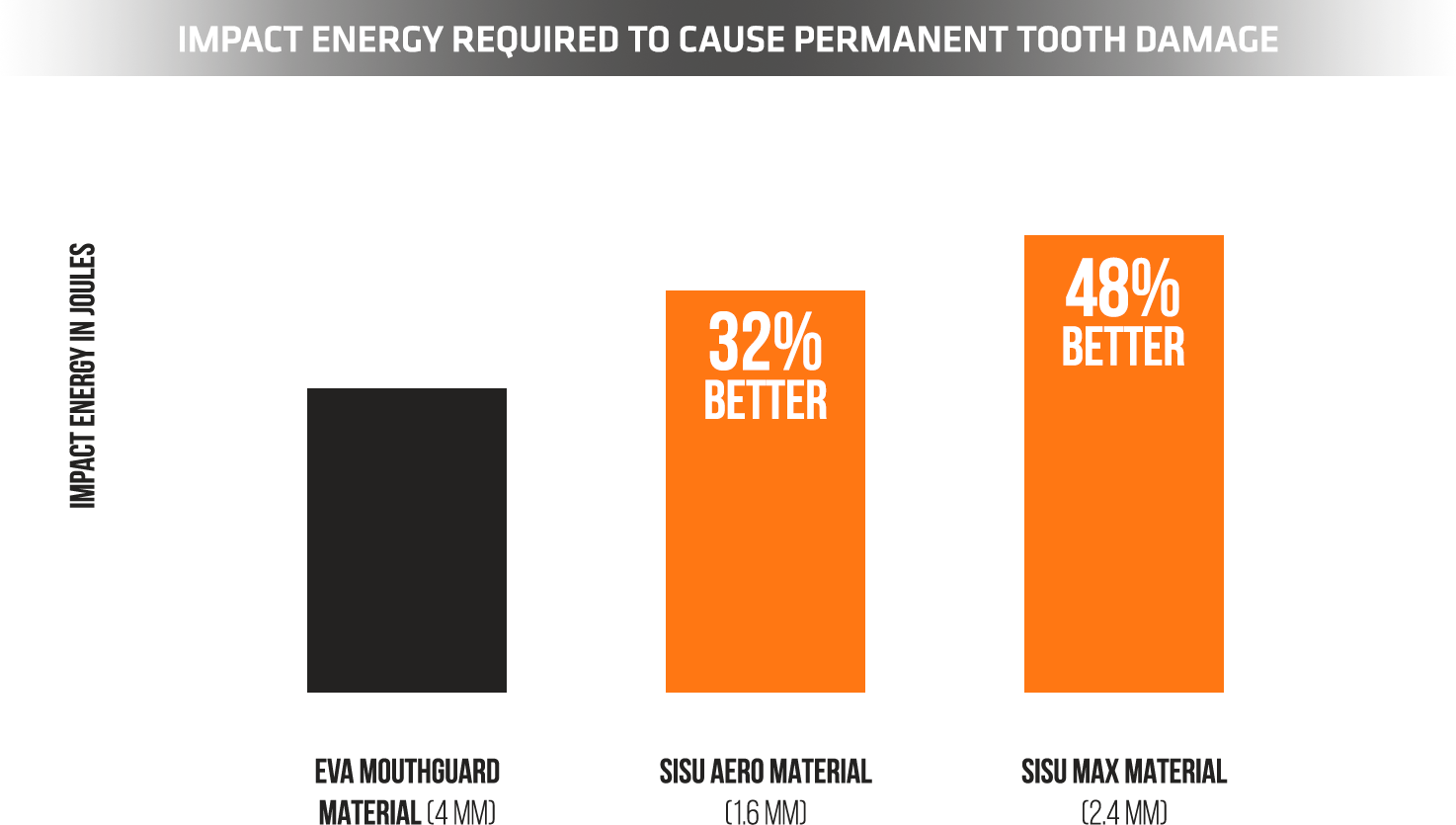 MINIMAL DEFORMATION
Storage modulus is a very important parameter for mouthguards because it is a measure of how much impact energy can be elastically stored in the material. The SISU material with a storage modulus of 450 MPa, has the capacity to dissipate 10 times more energy in the form of rebound energy than EVA, with a storage modulus of 40 MPa.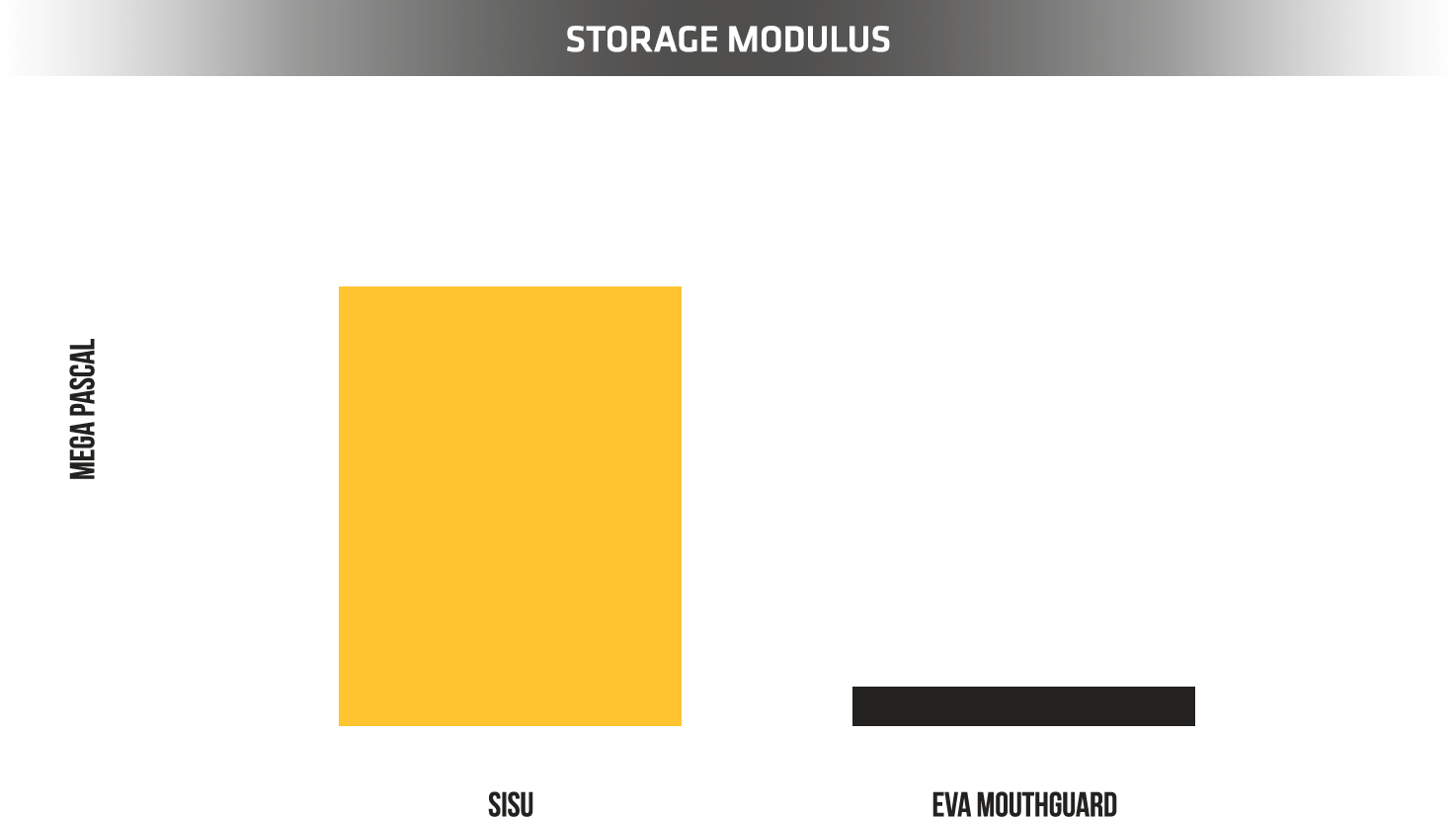 HIGHER TENSILE STRENGTH
Tensile strength describes the maximum stress the material can sustain before failure. The range of tensile strength of SISU material* is at least 30% higher when compared to EVA** which is used in most OTC mouthguards.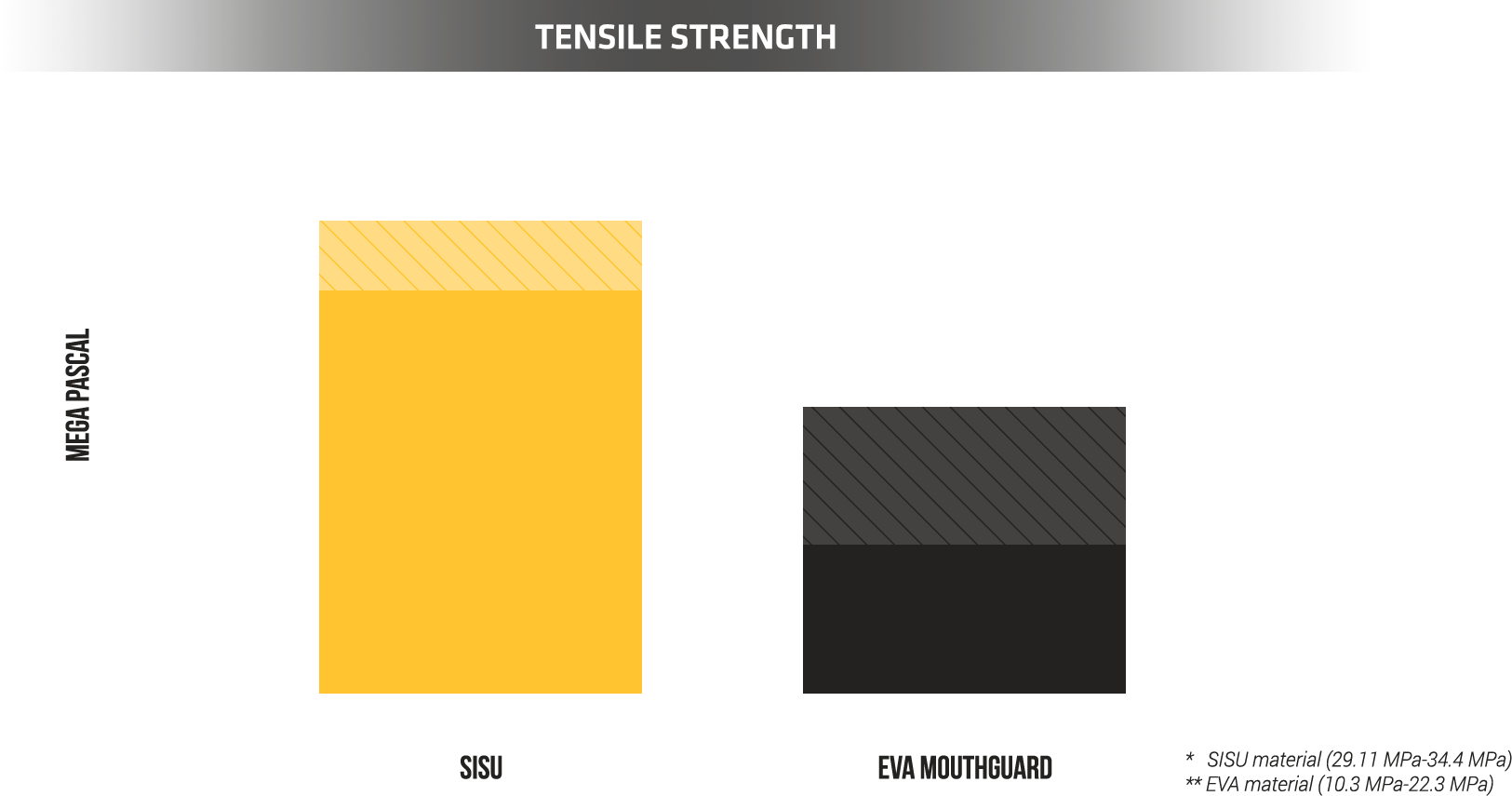 THE BREAKTHROUGH SISU TECHNOLOGY HAS BEEN RECOGNIZED BY THE FOLLOWING AWARDS:
Diffusix Technology
SISU® is made from a non-compressible, perforated material and doesn't cave in under impact like conventional mouthguards. Using our one-of-a-kind Diffusix™ technology, the impact force is distributed over larger areas, which means less risk of dental injury during competition.
MATERIAL IMPACT DISPERSION
DIFFUSIX™ absorbs the diffuses impact throughout the entire mouthguard.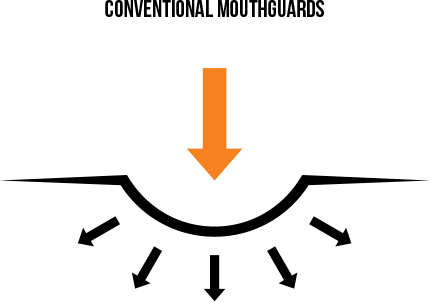 Conventional mouthguards are made from a material that's too soft to fully protect your teeth from harm.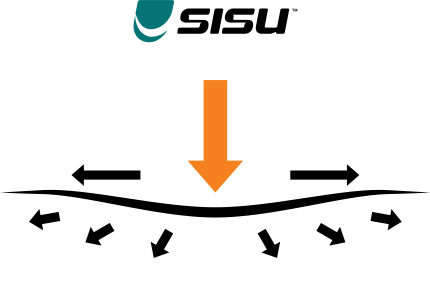 SISU guards are made from a material that absorbs and diffuses impact throughout the entire mouthguard, meaning that much less impact force is transferred your teeth.
Diffusix™ technology works with unique impact-absorbing perforations and special "crumple zones" which direct the impact forces away from your teeth. When a SISU mouthguard is properly fitted, these energy-absorbing zones direct forces away from your teeth, reducing the risk of dental injury.ENERGY ABSORBING CRUMPLE ZONES
Just like a bridge is built in compartments that can move slightly, the perforations in SISU mouth guards oscillate under impact and absorb impact forces. Energy is directed away from the teeth, and into the specially designed crumple zones.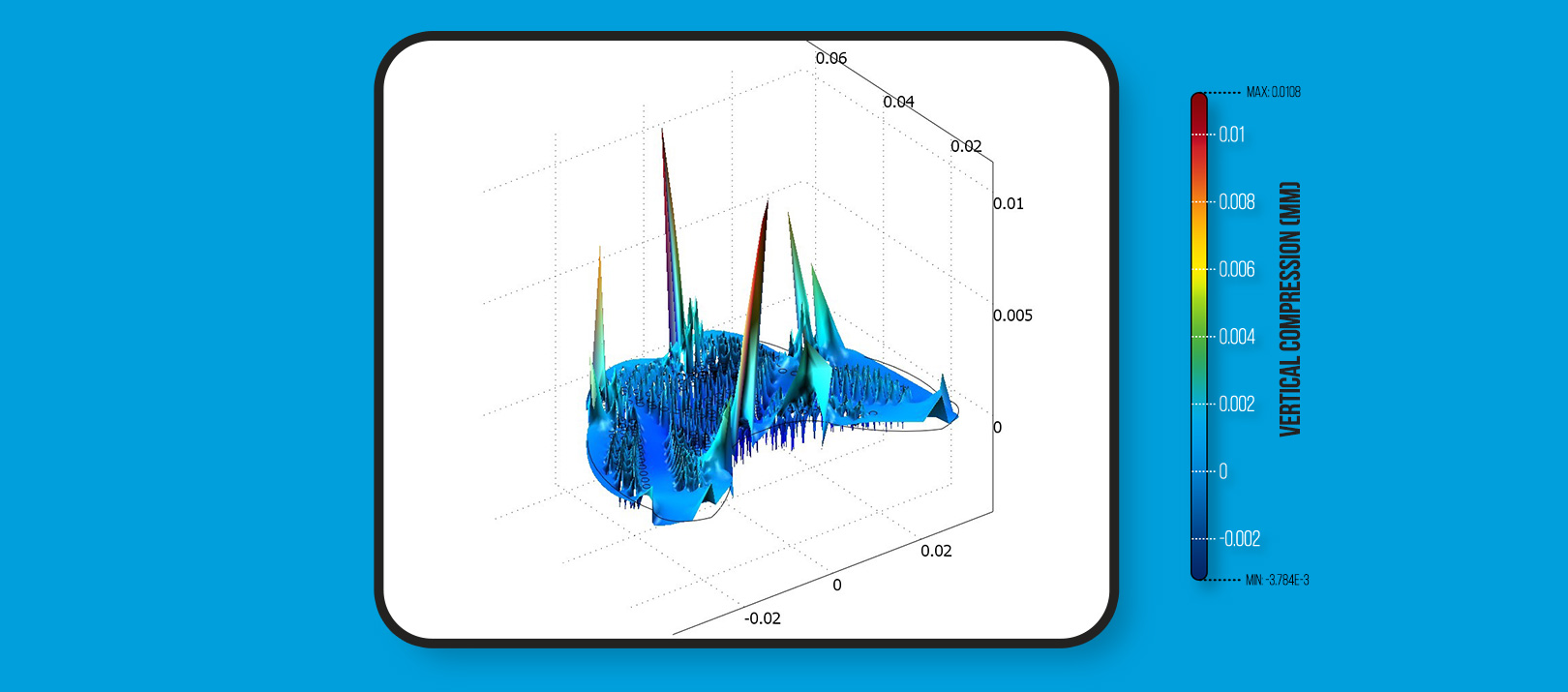 BUT WHY THE PERFORATIONS?
The perforations serve three important functions:-
Custom fit
Vacuum-like suction allows you to create that custom fit so unique to your mouth, the guard stays snugly on your teeth during the entire game or practice.
Talk. Breathe. Drink.
Natural flow of air and saliva empowers you to talk naturally, breathe normally and stay hydrated during the game or practice.
Better Protection
Like the support systems on a suspension bridge, the perforations oscillate on impact and redirect the forces to scientifically engineered reinforced parts of the guard.
Why Sisu 1.6 or 2.4?
Bij Sisu Mouthguard zijn er twee verschillende dikte maten in gebitbeschermers, de 1.6mm dikke variant en de 2.4mm dikke variant.
Hier de verschillen tussen deze twee bitjes:
1.6 Sisu Mouthguard (Aero Guard)
WITNESS EVOLUTION
SISU NextGen is the latest evolution in mouthguard engineering by the makers of SISU Guard. Simply put, it is the most powerful mouthguard we've ever built. With its unmatched quality and functionality, SISU NextGen was designed with the athlete in mind, and its unique new features are hyper focused on additional protection and comfort.
MORE PROTECTION
The Aero is made from a high-tech thermoplastic material that is 30% stronger and has 8x greater tensile strength than conventional mouthguard materials. This means that no matter how intense things get during game time, your SISU Aero has your back and your teeth.
WAY LESS MOUTHGUARD
The most unique feature of the SISU Aero is its super-slim, ultralight design. At a lean 1.6 mm, the Aero is 50% thinner than your standard mouthguard. Combined with its quick, custom and remoldable fit, you´ll entirely forget there's something awesome and plastic inside your mouth.
THE SCIENCE OF SISU
In our labs, we have put each mouthguard through strenuous testing to see how it performs in relation to its competitors. SISU Guards are made from unique medical grade thermo-polymer, which is, remarkably enough, free of harmful chemicals. SISU material is non-compressible, which enables SISU Guards to outperform the competition in tensile strength tests.
The tensile strength of our SISU material is consistently at least 30% higher than that of conventional EVA (a material most other mouthguards are made of). In reality, our material performs even better, due to the built-in Diffusix™ Technology, better protecting your teeth from damage. Learn more about the Science of SISU at sisueurope.com/the-science-of-sisu/
ENGINEERING
Powered by our patented Diffusix™ Technology and engineered to withstand even more impact, SISU NextGen delivers even more protection with its scientifically re-designed perforation pattern. Based on suspension bridge technology, the main function of the perforations is to redirect the forces of impact. On impact, perforations oscillate and send the forces into our scientifically engineered Crumple Zones - the reinforced points of the guard that don't cave in under pressure. Here, the force of impact is redirected away from teeth and absorbed into the non-compressible surface of the guard. This unique design empowers SISU NextGen to protect you from even the toughest hits.
COMFORT
Custom fit, remoldable SISU NextGen features a wider bite pad, rounded edges and improved moldability. Rounded, bevelled edges soften the point of contact between the guard and the mouth, and improvements in the perforation alignment enable maximum dissipation of force transmitted from the point of impact. Superior protection is not the only function of the perforations. They also allow for flexibility to create an intimate custom fit, so unique to the player's mouth that the guard remains in the mouth during the entire game or practice. Additionally, perforations allow for natural flow of air and saliva to empower athletes to talk normally, breathe naturally and stay hydrated during the game.
SISU AERO NEXTGEN IS THE BEST MOUTHGUARD FOR TEAM SPORTS
HOCKEY
LACROSSE
SOCCER
BASKETBALL
ROLLER DERBY
AND MORE!
2.4 Sisu Mouthguard (Max Mouthguard)
EVEN MORE PROTECTION
The Max guard is made from our high-tech thermoplastic material that is 50% stronger and has 8x greater tensile strength than conventional mouthguard materials. So if you'll be colliding at full velocity into giant competitors at frequent intervals, or if your opponent gets in that one lucky punch before you knock him out, the SISU Max is the mouthguard for you.
STILL LESS MOUTHGUARD
Even when you wear a Max guard, you don't have to sacrifice a more comfortable mouth. The SISU Max is only 2.4 mm thick, making it 30% thinner than your typical mouthguard. It's custom-fitting AND you'll be able to talk, breathe and drink better than ever before. It's really the best of both worlds.
SISU MAX NEXTGEN IS THE BEST MOUTHGUARD FOR IMPACT SPORTS:
FOOTBALL
MMA / BJJ
LACROSSE
SOCCER
BASKETBALL
ROLLER DERBY
AND MORE!